This quiz should be completed while watching the training in step 2. Once the quiz is complete, please print it and take it to the appropriate department to get credit for taking this training. You must score at least 70% to get credit for taking this training.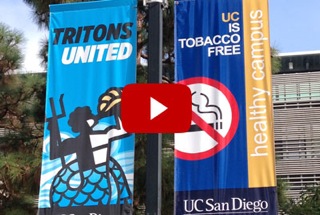 This 40-minute training covers: why the UC system decided to go tobacco-free, the environmental impact of tobacco, nicotine and the brain, hookah and e-cigarettes, and tobacco industry tactics.
This evaluation helps the creators of the training to make the training better. It also allows the creators of the training to keep track of which campuses are using this training. Thank you for completing this quick evaluation!
To get credit for taking this training, take the completed quiz to the department or person that referred you to this training. They will score your quiz and if you get a score of 70% or better, you'll be all set.
Resources for Tobacco Users
Use this map to see the boundaries of the smoke-free campus. All shaded areas are smoke and tobacco-free.
Free Nicotine Lozenges are available to visitors and staff at the hospital cafeteria cash register and gift shop, and at the information desks at UC Davis Comprehensive Cancer Center and the Lawrence J. Ellison Ambulatory Care Center.
The SToP: Stop Tobacco Smoking Cessation series meets for 8 sessions over several weeks and focuses on empowering tobacco users to overcome the addiction. It incorporates many aspects of smoking cessation including behavior modification, nutrition, medications, and relapse prevention.
Click on the image to watch this short interactive EMMI video.